I've been doing quite a bit of housekeeping here at Net [email protected] That means some pages were deleted, and others had URLs changed. If you landed here, you were looking for one of those pages, so here are some tips to help you out! 😉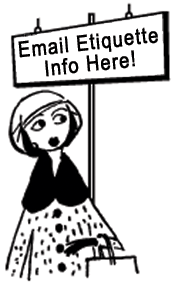 Your first option is to type what you are looking for in the search box over there top right. By doing so, you'll get a selection of articles to choose from. I've also included a list of the most popular areas on my site below. HTH!
Most Popular Email Etiquette Pages
Top 10 articles are listed in the side bar too.