E-mail Etiquette Made Easy!
Imagine… You Can Practice E-mail Etiquette and Avoid Looking Inexperienced in Just 24 Hours!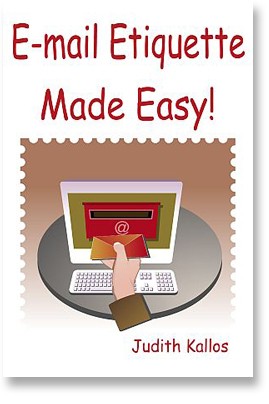 If you like this Website, you'll love E-mail Etiquette Made Easy! I've included everything folks love about my site and added more time-sensitive articles and how-tos. So you get all the basics you need and probably have wondered about in one little book — without all the techno-babble!
This book is truly E-mail Etiquette Made Easy and a great gift idea for:
Make the best possible impression when you are online by adding this book to your online arsenal and get to be known as courteous and a joy to get to know and communicate with. Someone who practices proper Netiquette.
Get rid of the intimidation and frustration computers and online cause by using "E-mail Etiquette Made Easy!" as your guide. And if you still have questions, feel free to reach out, and I'll answer your questions personally.
Remember, online, ignorance is not bliss, and perception is the only reality.
E-mail Etiquette Made Easy!
This one little book covers everything you need to know to get started. This is my second book and covers the basics I get asked about most through @ NetManners.com. Simple tips and information so that you are perceived favorably and have a more enjoyable online experience. Easy! 😉
Table of Contents:
Chapter  1: Hello E-mail!
Chapter  2: Who Needs E-mail Etiquette?
Chapter  3: The Basic Basics
Chapter  4: E-mail Software Tips
Chapter  5: Creating E-mails
Chapter  6: Are You Viewed as Rude?
Chapter  7: Avoid Looking Spammy
Chapter  8: Replying To E-mails
Chapter  9: Forwarding E-mails
Chapter 10: E-mail Privacy
Chapter 11: Ongoing E-mail Conversations
Chapter 12: E-mail Autoresponders
Chapter 13: E-mail Attachments
Chapter 14: E-mail Organization
Chapter 15: Undeliverable E-mails
Chapter 16: E-mail Whitelist Etiquette
Chapter 17: Handling Rude E-mails
Chapter 18: Acronyms
Chapter 19: Emoticons
Chapter 20: Glossary
Great for homeschoolers too.
What are you waiting for?